P
Photography … Money Lost … Pro … Amateur … Cost
I know it is said that we all have one great book inside of us. That does not mean we all are a John Grisham, a Steven King or a John Sandford.
I would also say if you snap 10,000 frames one is going to be great. In fact, in the days of film, once or twice a year I would get a super artistic photo from loading my camera. You know, the two frames you advance to get the film spooled in the camera. I even understand a book has been printed of just the images made from those spooled frames.   Cool… I want a copy of that book.
Now let's talk Money.
One of the problems with money is when we leave it on the table. You see, the problem is we really never know how much we've  left on the table. Sometimes we do not even understand we are leaving money on the table. It is even harder to conceive when our agent leaves money on the table for us, masked with words like, "I'm saving you money. It will be just as good". I'm talking about revenue generation or the lack of.
Believe me; I'm talking from firsthand experience. I would hate to count the number of times I tried to convince myself I was as good as a professional. All you have to do is read this blog and you will know I'm not a professional writer. And, you should have seen the design layouts of the first blogs, I posted. Fortunately, my web master, Lisa in Peoria, IL, saw them first. You have to love brutality. Thanks, Lisa.
So, when talking money, the hardest loss of money to evaluate is the lack of revenue. Oh yes, if you do not advertise your product, it is easy to understand lack of revenue. But, when you do advertise the question becomes, "How much should be the return?" So here's the problem and the difficulty in evaluating, there is no guarantee of the volume of sales if you market.
I would say good marketing delivers the best return of revenue possible and bad marketing is worse than no marketing at all. Bad marketing discredits all of your products and the integrity of the company as well as raising questions about your judgment.
Given that photography carries the most visual weight, creates the first impression and sets the overall tune of the marketing presentation, I have a very hard time understanding why anyone would choose to use amateur work to represent their professional products? My best guess is because it is so hard to evaluate the true potential of sales revenue before marketing.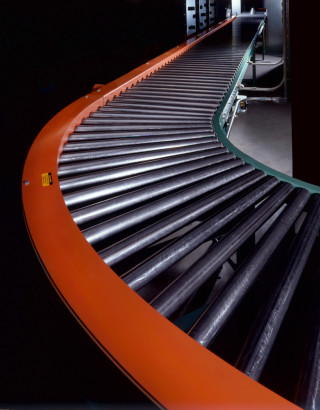 Here is a true story that demonstrates the above. Eddie Crane, the then marketing director at that time for Roach Conveyors, and I were chatting about the cover shot of their up and coming catalog and capabilities brochure. I asked Eddie, "When do I need to book the trip to Atlanta to photograph Delta Airlines' brake rebuilding maintenance department." Eddie said, "You don't, I will be doing the photography myself."
Fortunately, Eddie had some catalogs from his competitors on his desk. So I asked Eddie, "How much new revenue per year does Roach receive from new accounts?"  $25 M was the answer. So then I asked, "Of these competitors' catalogs on your desk, based on the cover images, which one are you going to open first?" It was not the Roach catalog. "Ok, what is your second pick and your third pick?" Roach was last, the fifth pick.
Then I made the following statement – question, "So what you're telling me is that $25 M is the dregs of your industry." What would be your new business revenue if buyers open your catalog first? I can guarantee if I photograph your cover, the average buyer will open yours first or second.
I did make the trip to Atlanta and the following year's new business revenue as reported to me by Eddie Crane was over $360,M.
My point is, 25M looked good until they realized how much money they were leaving on the table by using amateur photography to save costs. The sad thing is, this is not an isolated story, and the trend today of using amateur images is growing.