T
Tipping Point – When to Stop Outsourcing and Bring Your Photography In-House
Disclaimer the photographs featured in this post were created by Rizzy Homes staff.
Developing a top notch branding campaign takes a lot of strategic planning, testing, evaluation and artistic vision to execute. This is most true for the manufacturers of high-end goods who have to produce quality photographs for e-commerce, catalogs, multiple ads in all formats, PR and social media – the world's new word of mouth. Costs for photographers and studio time will increase as your business demand increases.
That's a good problem to have, but there is a tipping point when it comes to your annual art budget. When you've reached it, it's probably time to bring portions of your photography in-house.
If the thought of having an in-house photography department seems far-fetched, let me dispel the top three objections right now. 1) it wouldn't render the highest quality creativity, 2) we don't have the expertise required to supervise a photography department, and 3) we really only have limited needs for photography. If you've reached the tipping point these are false or manageable concerns.
I've worked as a consultant with several of my clients to move their photographic needs in-house. I'd like to share a recent client experience that rendered breakeven on the initial investment in less than six months and they are already reaping substantial ROI in their first year. I'm also happy to say that this is typical when done correctly.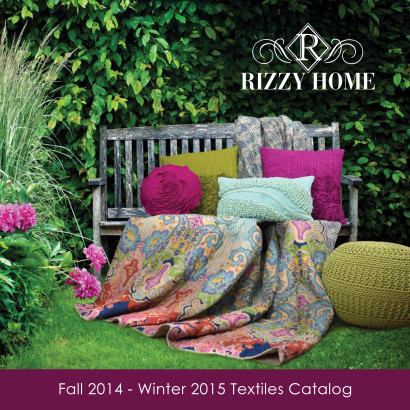 Rizzy Home (Riztex, Inc.), www.rizzyhome.com a rug and textiles manufacturer specializing in fine area rugs and decorative pillows, is a company who brought in their own photography department this year. After realizing their rapidly expanding need for increased visual art and examining their photography expenses, it became crucial for them to find a better way to meet their needs. I was hired to assess these photography needs and expenses to make a recommendation. They agreed with my assessment that creating an in-house photography studio with a full-time staff photographer and graphic artist was fiscally justifiable. Moreover, it was the perfect opportunity to be in total control of the images and visual content of their product and brand. They would produce and fully manage which images went where. With control over content, time, and delivery as well as the reduction in outsourcing fees, it was a win-win-win.
The initial, one time, setup cost slightly exceeded what they were spending in photography outsourcing for one catalog. We were able to completely equip a fully functional photography studio, including graphics computers with high-end monitors and software for two workstations. We also established a data asset management and archiving system . The balance of the budget was used to hire graduating students in both photography and graphic design, as well as cover my consulting and training fees.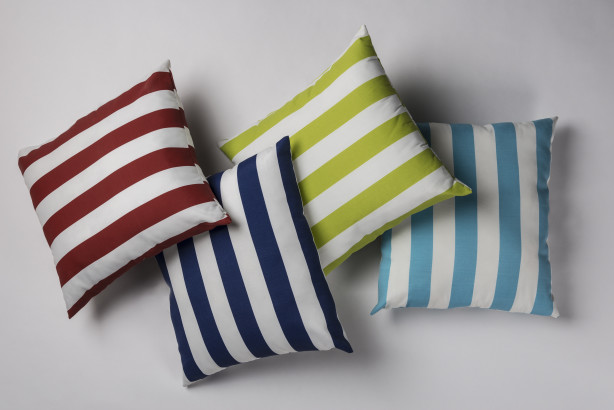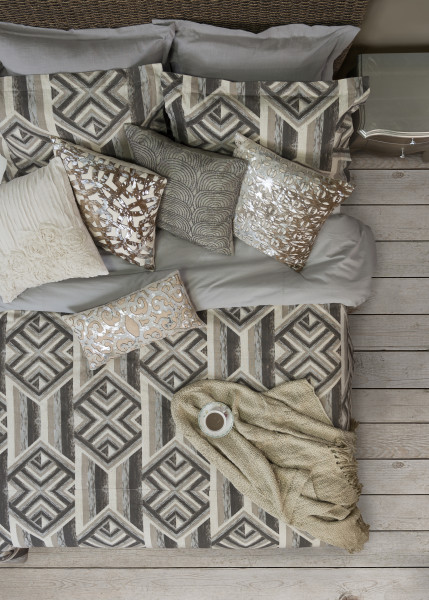 Rizzy Home brought photography and design into their corporate culture and understood the benefits for their business. Since adding their new photography/art department, they not only have their initial needs of two 360-page catalogs plus some ad material, but best of all they now have ongoing fresh material for PR, magazine submissions, and a steady stream of fresh innovative images for social media marketing and fresh customized per client on-demand images for their clients point-of-purchase marketing needs.
The average tipping point cost is dependent on the type of photography that you're doing. In Rizzy's case, they were looking for catalog quality level and studio ad material to cover their new design inventory, which fluctuates around 1200 new products per year. In dollars and cents their annual budget had reached north of $50,000 for photography.
Teresa Parris, visual and creative manager for Rizzy Home, understood the importance of controlling their high-quality images and that is why she sought out my services. Ms. Parris has offered her accolades on the photography studio project, adding, "Mike Boatman specified the equipment, helped us establish resources for it, trained the personnel in the care and use of all the equipment as well as how to achieve the best shots for what our corporate goals were- SELLING PRODUCT. He also has continued to provide continuing education to those persons and to mentor them as they grow and develop their skill sets to mastery."
It is invaluable for a company to generate high-quality creative images because it allows them to take advantage of market fluctuations and trends without being bogged down by traditional photography studios where they'll be competing for studio time. On-demand content also removes the al a-carte expense of photography for exploratory creative.
Equipment: What about the expensive equipment, you ask? There is great news! Until 2012, you could only get extremely detailed large files needed for large format applications (packaging, point-of-purchase posters, bus wraps, etc.) by using a medium format digital camera. The average cost for medium format cameras, brand new, ranges from $15,000-$70,000, which does not include the cost of computer, lights or any other studio equipment.
In 2012 Nikon introduced a 36 megapixel SLR at a price of $3200 in order to compete in the medium format market. The Nikon 36 megapixel SLR camera creates a 103 megabytes tiff file (the "entry-level" size for medium format). That move by Nikon has completely changed the game and opened the door into the medium format range.
That said, the largest majority of marketing today including all Internet and web applications, don't require and can't handle extremely large files (standard resolution for the Interne is 72 dpi).

Photographer: One in-house photographer can produce (if you had to purchase from an outside vendor) the equivalent of a quarter of a million dollars. You read that correctly: $250,000. What that means is, you could pay for a $40,000/$60,000 year employee and get $250,000 photography.
If you don't have enough shooting for a staff photographer to do, you can easily split the workflow. For instance, after 15-20 hours a week of photography that covers your collateral images, the balance of time during the week could be manning your social media – your new word of mouth.
If you're only relying on traditional word of mouth, you're going to starve to death. Conversations are no longer being done face to face. You don't need a huge camera to put a photo on Facebook. You don't need 103 megapixels to conduct a marketing plan that captures today's word of mouth. Yet you cannot fill your online pages with gotcha shots (smartphone photos) and still keep a slick, professional image. A staff photographer can ensure you have professional, ready-to-use images representing your brand at all times, assuring brand cohesion from catalog to large print to your social media pages.
Overall, an in-house photography department gives you the control to produce your own high-end marketing content and collateral materials faster while keeping more of your advertising dollars in your pocket.
So, how do you know you've reached the photography tipping point? Understand your outsourcing agencies will never tell you that you've reached it. It's simply not in their interests to turn business away and I don't blame them. Not every company has the marketing needs to justify an in-house studio, but many do and are missing a golden opportunity. That is why you need me, or someone of my credentials, to give an honest, unbiased evaluation of your photography needs. Let's find out if you've reached your tipping point.
Mike Boatman photography…Commercial Advertising industrial photographer.
309-698-8804