Y
You do not have exclusive rights as guaranteed by copyright law!
Abuse of sovereign immunity is not a copyright infringement.
Summary:
University of North Carolina Asheville,Took intellectual property without authorization and used it for their own financial gain. See web site below.
When questioned about the ownership and copyright authorization of the image below, the professor who created the website stated:
I grabbed that photo from a website last year but I can't find it now. It is from the Motorola IRT Pro Nationals in Denver, CO.
When this issue was brought to the attention of The UNC Asheville General Counsel, Lucien Capone III…
…the university as a state body, is immune from suit under the legal theory outlined in your letter, pursuant to the 11th amendment sovereign immunity…" "Further, if suit is brought against UNC Asheville, the University will pursue any and all actions available to it, including rule 11 sanctions as applicable.
To date UNC Asheville has made no apology or financial compensation for the unauthorized usage of Mike Boatman's intellectual property nor have they made any compensation for the use of Kane Wasalenchuk's, a professional athlete's, personal image.
Web Site published by University of North Carolina Asheville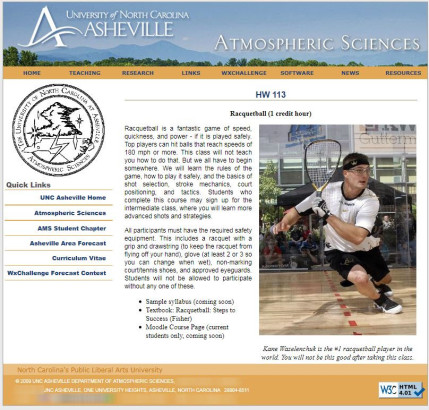 As blatant as this would be in the commercial or public world, a copyright infringement, which would include substantial penalties and compensation to the owner; in this case no crime has been committed by the University of North Carolina Asheville .
Even though, the image itself was clearly watermarked ©Mike Boatman 2008, and there was a text box on the website underneath the image clearly stating "All photographs property of Mike Boatman and the IRT," UNC Asheville disregarded these legal notices and used the images for its own financial gain.  Then UNC Asheville invoked sovereign immunity.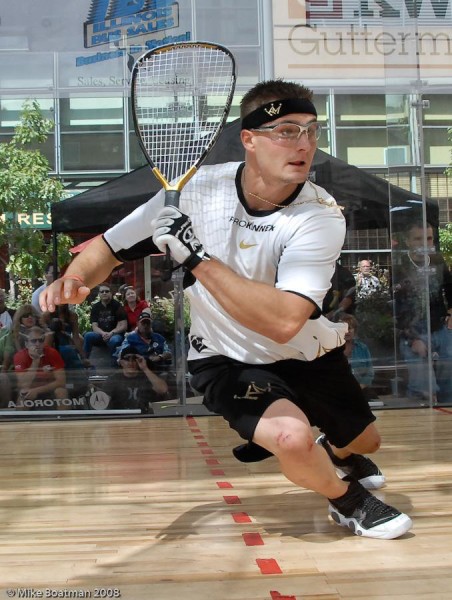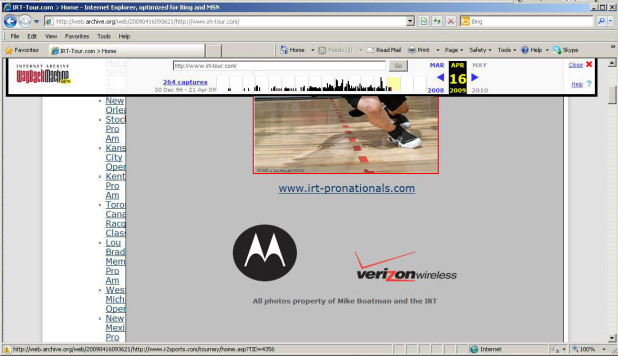 Upon further investigation UNC Asheville has extensive policies regarding copyright and copyright infringements. Policies number 79 and 80:
Taken from policy number 79 at http://administration.unca.edu/policies/79
Policies and Procedures Policy #: 79 Page: 1 of 10 Approved by: JHM Owner Dept: IP Comm. Phone: 6545
Title: Copyright Use and Ownership
Purpose: In pursuit of its mission and consistent with applicable laws and policy, UNC Asheville encourages faculty, staff, and students to make appropriate use of intellectual property and to share the results of their work. The following establishes policy to govern the use and ownership of intellectual property in order to achieve those ends in accordance with provisions of the Copyright Use and Ownership Policy of the University.
Please note the highlighted section, "consistent with applicable law". This is code, applicable law, equals, sovereign immunity. In layman's terms everything after this phrase is irrelevant because applicable law grants complete immunity for copyright infringements. The General Counsel's letter substantiated this, see below.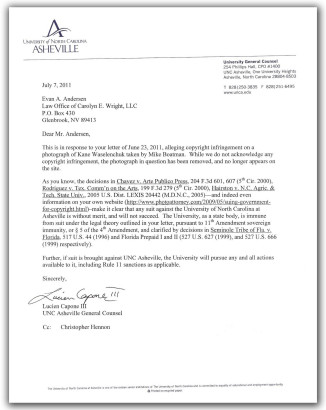 You do not have the ability to promise/warrant 100% exclusivity to your work!
Usage of your creation and designs that you sell to your clients are not 100% within your control nor your clients regardless if you copyright register your work and do all of the appropriate protocols to safeguard it. This is true regardless if you are a graphic artist, illustrator, filmmaker, recording artist or photographer, provided that, you're relying on copyright law for these exclusivity rights.
Under certain conditions such as state sovereign immunity and fair use, 3rd parties completely unrelated to you, your client or the purpose for which the creative was made can use your images without your authorization. Most of us are aware of the restrictions and guidelines for fair usage, this is not my concern. Furthermore, a fair use can be challenged by the creator where as a federal judge is the only ultimate authority to determine if it is fair use or not. My concern is that these built in conditions and safeguards which govern unauthorized usage are not present in sovereign immunity. In my personal opinion, as a layperson, state sovereign immunity was an unattended loophole in the copyright law or better stated an accident.
My image was taken, used in a commercial ad, shown above, without authorization, was registered with the Library of Congress, embedded in the image my watermark, authorship contact information and the copyright notice was in the metadata, as well as a text disclaimer warning about copyright ownership was displayed under the photograph on the website as posted by my client. Despite using all best practice protocol, my image was taken and used for the financial gain of the University of North Carolina Asheville. Furthermore, there's nothing I can do about it under copyright law, relevant to the University of North Carolina Asheville, who reap the the financial gain, under the United States copyright law because, state organizations have immunity. However, the professor who admitted to grabbing the image may have personal liability even though it was the University that benefited financially.
The point that I'm trying to make is, any state government, state owned institution such as, universities, state parks or state operated programs that has not surrendered sovereign immunity, which I believe there are zero, has the legal right to take your creative and use it for their own financial gain without penalty of copyright law or compensating you (the creator). This is a known loophole at the copyright office which they've testified before Congress multiple times about. http://www.copyright.gov/docs/regstat72700.html or search http://www.copyright.gov for, state sovereign immunity
Implementation of this is simple, we the creative community can have our creative work used without authorization for the financial gain of any state organization whether or not we support or agree with that organization . Abuse of sovereign immunity has already occurred. To add insult to injury abuse of sovereign immunity does not violate any federal copyright laws. I guess it's just a matter of integrity.
Even though a photographer can offer exclusivity to whom they grant a licenses to, it is impossible for a photographer to promise 100% usage exclusivity on their license agreements because of sovereign immunity.
In your own business, what would happen to your business, if you had granted an exclusive license of a marquee image that represented an entire corporate brand and it was used by a state organization third-party for completely unrelated issue or even a counter issue to your clients interest ?
The implementations and questions that this provokes would fill a completely new blog. But here are a few questions that come to top of mind.
If any organization has the authority to supersede the author and creator of a body of work for their own financial gain without authorization from the creator then it's only logical that the creator of any work does not have exclusive rights as supposedly granted by copyright law.
If UNC Asheville has no qualms about using intellectual property that's clearly marked, what other intellectual property have they used without authorization, and squashed objections with threat of rule 11, sanctions. Are there any limits to what type of intellectual property they would not use? I also believe they receive federal grants for their research, should we be giving grant money out for research to an institution with questionable integrity. Wait a minute, they've committed no crime, sovereign immunity, so I guess their integrity is intact.
Motorola paid a quarter of $1 million to sponsor Pro Nationals in Denver should they be compensated?
Pro Kennex, Kane Wasalenchuk's manufacturing sponsor paid tons of money to rehabilitate Kane's image and sponsor him through a recovery. This particular image was used as a logo marquee image for their entire marketing plan of 2009, should they be compensated?
Kane, a professional athlete that makes money from endorsements had his privacy rights violated in an endorsement that was taken without authorization from him, shouldn't he be compensated as well?
Mike Boatman, the owner and author of the image obviously should be compensated.
It's very interesting that the University of North Carolina testified before Congress that there had never been any evidence that an institution of higher learning had ever abused sovereign immunity. Could this be the first abuse, I doubt it!
Lastly do we really think that UNC Asheville is a one off occurrence?
Since my image was taken without authorization and used for financial gain what makes you think your creation won't be next?
Wrapping up, questions that you may ask.
I'm sure you noticed the date on the copyright notice of 2008. The image was actually grabbed about June 5, 2010. It came to my attention in 2011. My first approach was to turn it over to my attorney because I have a responsibility to my clients whom I lease images to. In particular, Motorola, Verizon wireless and Pro Kennex, because the ad constituted an implied endorsement of University of North Carolina Asheville. I do not sell copyright ownership to my clients, therefore, I take on the responsibility of defending the integrity of usage of the images that I leased to them. It is from these actions that the letter from the University of Asheville General Counsel which is posted above came from. After several months, it became clear that appropriate law, law of the land, was indeed sovereign immunity therefore, I had no copyright claim. So, I closed this action with my attorney in order to publicize it.
My next step was to bring it to the attention of Blake J. Discher, www.groozi.com. A photography blogger and past officer of ASMP. Blake's was keenly interested and his first step was to send it to General Counsel for ASMP to substantiate my statement that there was no legal action I could take under copyright law. ASMP agreed I had no claim under copyright law and that pursuant to policy 79 of University of North Carolina Asheville, quote "the University of North Carolina appears to be talking out of both sides of their mouth!"
Blake advised me that I should have this published somewhere other than his blog because news organizations do not like to go 2nd fiddle even to bloggers. Blake gave me the contact information for the editor of PDN. After several phone calls and emails with the editorial staff of PDN they declined to publicize this issue because in their opinion I would engage in legal action and a nondisclosure clause in a settlement would squash the story before it was published. I'm not real sure what part of "I have no legal claim against University of North Carolina under copyright law to pursue legal action!"… that they didn't understand. I sought additional publications as well as hired a professional PR organization to pursue bringing this to public attention. Including but not limited to the on campus newspaper at University of North Carolina. Although 2 separate student newspaper staff reporters pursued writing the story for North Carolina's newspaper in both cases it never made publication after staff reporters tried to substantiate the facts with the General Counsel's office. So much for freedom of the press at the University of North Carolina.
Of course many of you may say I have other legal means to resolve this. This might be true, but not in a real-world practical sense. In a real-world practical sense the only true protection a photographer has is copyright law. The fact of the matter is I live in Illinois, it's not financially feasible for me to travel to North Carolina to pursue a small claims case or state civil case.
So now almost 4 years later I'll publish this myself on my own blog.
I have multiple goals here:
To publicize the hypocrisy of the University of North Carolina Asheville.
To bring awareness to the creative community about the loophole in the copyright law and its impact on our businesses. Which I think is best summarized in the conclusion of the copyright office testimony before Congress, "It is only logical that in the current legal environment, without an alteration of the status quo, infringements by States are likely to increase. Only Congress has the power to remedy the existing imbalance,…"
And perhaps, give the copyright office, hard evidence of a clear-cut case of sovereign immunity abuse, that they can use next time they testified before Congress about crafting a correction to close the sovereign immunity loophole.
Lastly, to fulfill my responsibility to my clients by exhausting all possible lines of defense for an unauthorized usage of an image; they paid for.
Thank you so much for your attention,
Mike Boatman