I
I started to title this blog free money, but I'm certain that spam filters would vanquish me to a black hole and your first glance at such a title; you would throw this in the delete folder and block me forever.
Having said that, I really do want to talk about added value that I bring to the table, which literally does translate into free money. This isn't just hype and to prove it I'm going to use actual emails received in the last months from my clients.
Here's the summary:
How I work and why this translates into free money!
One incredibly tight deadline, less than 24 hours, for a brand-new client (Boy Scouts of America), new creative director (national award winner) featuring Bass Pro Shops.
2 Regional magazine covers for 2 different clients, both interior decorators.
3 Featured inside magazine articles promoting four different builders.
As my clients know for the last 15 years most of my published work has been featuring architectural interiors or food. Most of my client base are builders, interior decorators and designers, land developers and a couple of magazines, a museum, a few food manufacturers like Tyson Foods, Bryan foods, Jimmy Dean and a couple hotel chains, but for the most part I have been photographing interiors.
So here is how I work. The first thing I do is listen! Then I may ask a few questions? Lastly I restate what I heard and understood to be the object of the assignment. I can't tell you how much money listening saves my clients. What I can tell you is that I can't remember the last time I had to do a reshoot.
Here's an example of an assignment I did last week. Client was Boy Scouts of America, creative director Janet Jackson (not related to the singer) but a national award-winning designer and an incredible fine art artist. This was my first assignment with all of the above.
As best as I recall this was the opening conversation between Ms. Jackson and myself, " We like this side of the archway with the lanterns, but our client likes the text on the other side of the sign and of course we want the Bass Pro shops visible under the arch. And were on an extremely tight press deadline can this be done by tomorrow morning?" No problem I can make that happen! Ms. Jackson, "are you sure?" "Yes, have you seem my web site." Ms. Jackson, "No, not yet. But I will."
Here's the finished image that I delivered.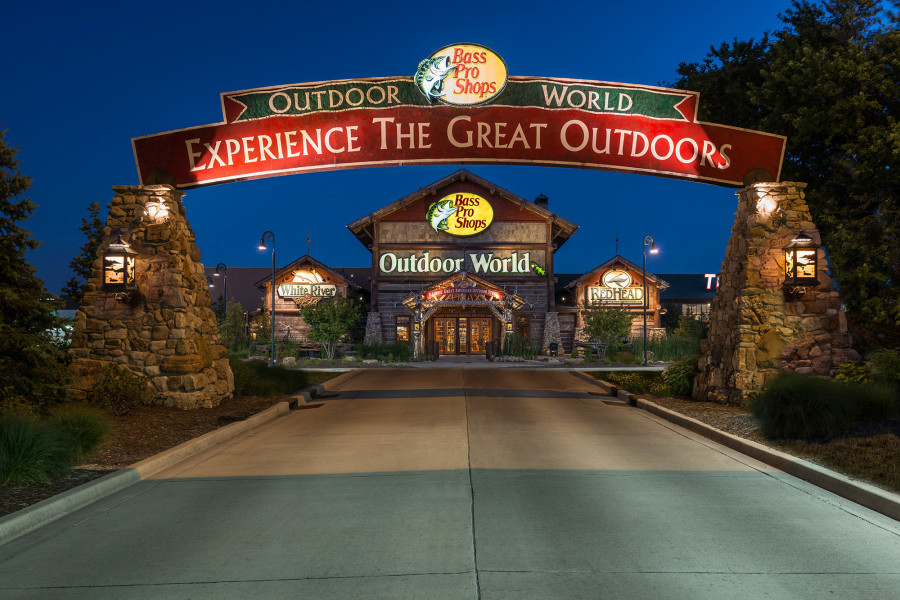 Here's the original photograph, notice the expressway in the background and the lack of the Bass Pro building. FYI, the layout calls for the top of the sign to be die-cut.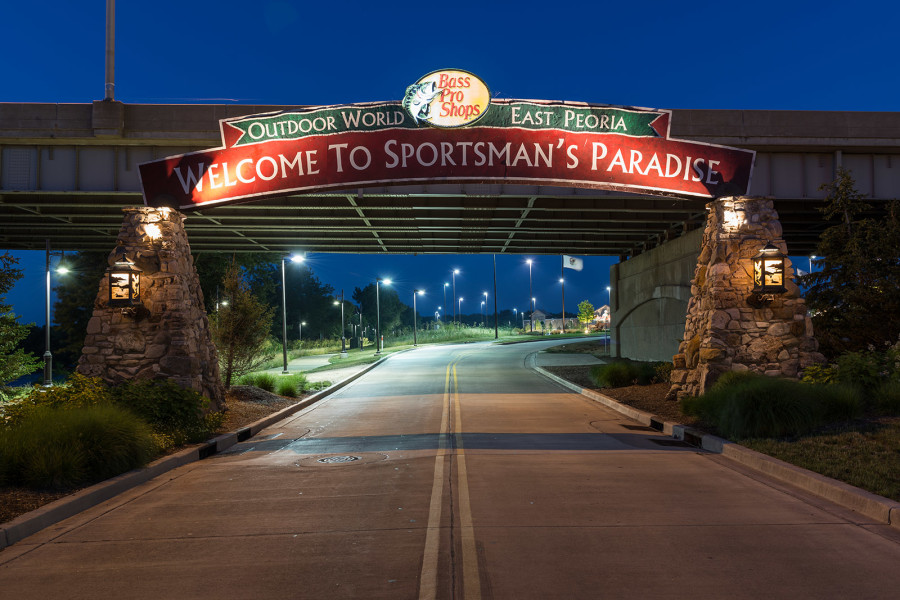 Response from Ms. Jackson, Thu 7/11/2013 11:32 AM:
Mike,
This is WONDERFUL! I don't know how the Boy Scouts found you, but it was their lucky day. I looked at your website…very, very impressive. I want to live in a house like that. The food…my goodness…it's like I could taste it. I love the cars and , of course, the high heels. I will certainly pass your name along at every opportunity. Peoria is fortunate to have you based here. I'm delighted to have met you indeed. Thank you for the experience of watching you 'create'.
Sincerely,
Janet
Janet Jackson
In short this is how I work. I listen, then I deliver with no problems, no drama!
But I really haven't demonstrated free money yet.
Free Money: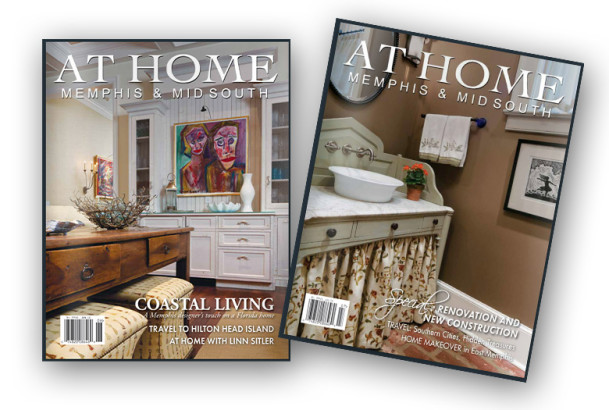 As part of my commercial fee I allow for, third-party distribution to magazines, exclusively for PR purposes or editorials that feature prominently my clients. On the reciprocal side At Home magazine and some other magazines although, I have to admit At Home is the most prolific, contact me for images on a given subject matter that they wish to write about.
In Anna Lattimore's case Janna contacted me to see if I had any images representing remodeling. I just completed photographing this house for Anna where the entire house had been taken down and a completely new house was put in its place. To me that represented the ultimate remodel so I shared this story with Janna who agreed. I'm not sure but I think getting the cover of a regional magazine without any additional fees above your commercial fees is like Christmas, as expressed by Anna or free money.
Email from Interior designer Anna Lattimore to Janna Herbison At Home Midsouth and Memphis, Tue 7/2/2013 10:34 AM
Janna,
The July issue is stunning! Thanks for including my client's home and featuring it on the cover! Yesterday felt like Christmas morning…waiting to see which images you all selected for the article and cover.
I am heading to the newstand today to purchase a bunch of copies, and I have posted links to the magazine on my personal and business facebook pages.
Let me know if I can help in the future!
Sincerely,
Anna Lattimore
Here is Anna's email to me:
Mike,
Thank you, thank you, thank you for showing the Mellone's house to Janna and especially for taking those stunning images. I appreciate you so much!
The magazine looks great! I think it is the best one they've put out in awhile, if I say so myself. 🙂 It was so much fun to see the cover yesterday. I was pleasantly surprised by the cover image. It makes a striking cover shot.
I have some more projects for you to shoot in the Fall. I am wrapping up details on two living rooms that are the same caliber as this project.
Thanks again,
Anna
Side Note:
I have a home coming up where the homeowner bought a school with multiple buildings including a gymnasium that's being converted into their family home. I can't wait to start brokering those photographs, and the story of this non-conventional home site. But that's another blog post.
I had back-to-back covers in June and July for At Home. With my client base being builders, interior decorators and other businesses I have ample inventory. I keep a very extensive asset management system and have easily thousands of houses that are available for public editorial usage. It's not uncommon for magazines to call and ask me for high-end images for specific articles, I can deliver 10 to 15 images of super high-end images on just about any aspect of interiors from multiple sources.
If you are a magazine editor, please go to my website and view the architectural interiors 90% of those images are available.
If you're a builder and an interior decorator I strongly suggest that you don't overlook the added value of PR and editorial space. At one point I heard that editorial space is valued at $11 to every $1 of advertising money spent. Here's a neat formula to think about, if a full-page ad in a trade publication cost $5000 then a full page of editorial space (which is free) is valued at 11×$5000 or $55,000 DOLLARS!
I would say all of my architectural interior clients have received multiple editorial articles and many have had multiple covers. For my editorial clients, many of whom send me on assignment, have also received multiple high-end feature article photography free of charge to them.
If you are an editor and you need photographic content on any given subject matter more than likely I have it. If you are an interior decorator, builder, or land developer and you need images for marketing and you would like to include PR and editorial space as part of your marketing plan most likely I can broker editorial space for you.
Just to wrap this up in summary:
There are no compromises in hiring me to photograph your commercial work, but there is an added bonus by being allowed to use the commercial work as part of a PR campaign with distribution to 3rd parties that qualify.
I've recently been added to the roster of archnetStudio. If you prefer to work through a production house or rap please contact my agent.
Melissa Markarian
Talent Manager
archnetSTUDIO
mmarkarian@archnetSTUDIO.com
00 +1 831-234-4012
www.archnetstudio.com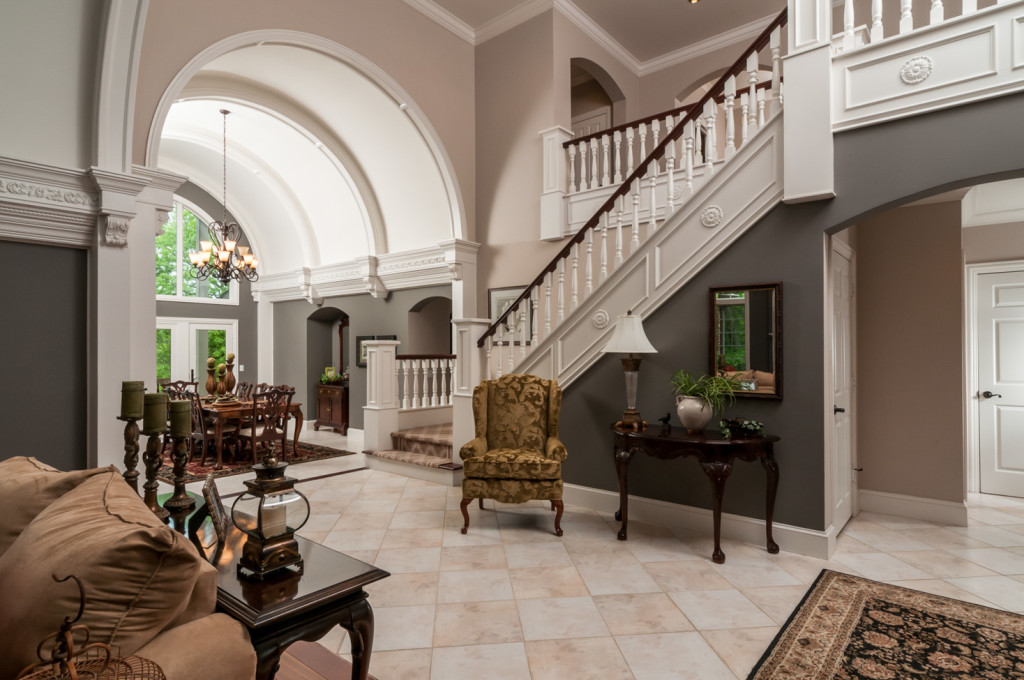 For my existing clients or any future clients that prefer to work directly with the photographer please don't hesitate to give me a call (309) 698.8804 with any questions or opportunities to bid.